Mark as New

Bookmark

Subscribe

Email to a Friend
I think it`s hilarious they are going for impeachment, I never thought they`d take the bait, but hate makes you do stupid stuff.
We might win back the House.
https://nypost.com/2019/09/24/goodwin-pelosis-impeachment-flip-flop-changes-everything/
snip:
We should know a lot more by Wednesday thanks to Trump's promise to release an unredacted transcript of the phone call. It's safe to assume he and his lawyers think he did nothing wrong, or they wouldn't release it.
Dems might agree, which is why they have moved the goalposts and now also demand the complaint from a so-called whistleblower that initially set Washington's hair on fire. Reports that the complainer had no direct access to the call raises questions of credibility.
Pelosi may think she went only halfway Tuesday and could eventually back down on impeachment if the Ukraine issue fizzles, but that's wishful thinking. Anything less than a public flogging of Trump will not satisfy the far left of her own party, including the 150 or so House members who already demanded impeachment before the Ukraine issue appeared.
Meanwhile, Pelosi's endorsement also pushes the presidential candidates toward the impeachment path, whether they like it or not. None of them can possibly be against it, nor can they be wishy-washy about it.
Bet that within days, there will be virtually unanimous support among the White House wannabes. Anything less will be disqualifying among the loud left.
In short, Pelosi just changed everything. The next election is now about impeachment.
If you think America is polarized today, you ain't seen nothing yet.
2 Replies
Mark as New

Bookmark

Subscribe

Email to a Friend
Re: Dems cross the Rubicon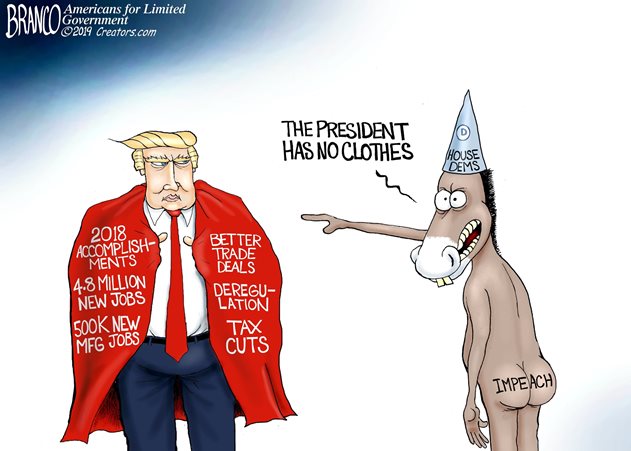 Mark as New

Bookmark

Subscribe

Email to a Friend
Re: Dems cross the Rubicon
I think they've just decided to go full court press, to devote the entire energy of the house to finding something, anything to use to remove Trump. Internal polling must not be looking good for the upcoming election and maybe they've decided they've got nothing to loose.