Trump
Canada's two Trump towers facing troubles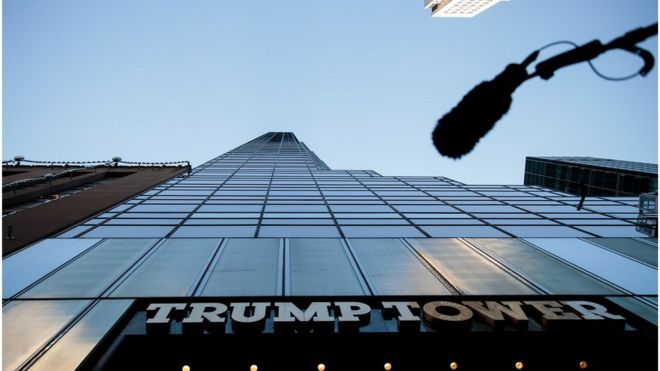 In Vancouver, the developer of a new Trump Tower has been under pressure for months to drop the Republican presidential candidate's name from the project. Meanwhile, the Trump Tower in Toronto is the subject of a lawsuit after facing years of controversy.
Donald Trump's controversial run for US president is having an impact on his businesses in Canada and knock-on effects for those who have partnered with his brand.
The opening date for the Vancouver hotel has been delayed until 2017, well after November's US election. A contest offering a chance to meet with the Trump family for the grand opening caused a stir.
Across the country, the Toronto building, which opened in 2012, has been the target of a lawsuit by small investors who claim they were misled into buying into the project. Its developer, Talon Development Inc, has tried to remove the Trump name from the troubled hotel and condominium complex.
The story is similar in other countries.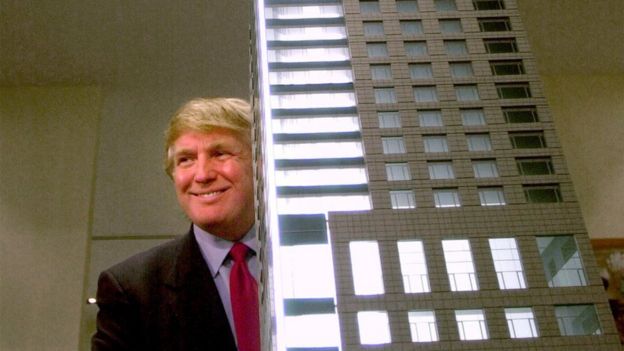 In Dubai, a firm building a golf complex with Mr Trump removed his name and image from the property. In Turkey, the developers of Trump Towers Istanbul have tried to distance themselves from the Republican hopeful. And there have been protests outside Trump buildings in the US.
An Angus Reid Institute poll released in December indicated that 56% of Canadians supported having the Trump brand dumped from the two Canadian towers.
Brent Toderian, a Vancouver-based city planner, was the first to openly oppose Trump branding on the 63-storey Canadian tower, designed by famed architect Arthur Erickson to have a distinctive 45-degree twist as it rose into the sky.
"We've taken a building that is the second-tallest in the skyline, carefully planned at least in part by one of our most revered Canadian architects - a very elegant piece of architecture for our skyline - and retroactively duct-taped Trump's name to it," he said in an interview.
The luxury hotel and condominium tower in downtown Vancouver is owned by the Holborn Group, a private real-estate developer which partnered with the Trump brand in 2013.
Mr Trump attended the announcement, accompanied by his children, Eric, Ivanka, and Donald Jr.
"I believe it's going to be a fantastic success. I love Vancouver," said Mr Trump at the time.
The project is licensed to use the Trump name and brand - including for Canada's first Mar-a-Lago Spa by Ivanka Trump - and will be managed by the real estate magnate's company, which is also overseeing the building's interior design.
In December, Mr Toderian renewed his call for the Holborn Group to distance themselves from the Trump name. He was joined by Vancouver Mayor Gregor Robertson, who said the brand had no place on the city's skyline.
"Donald Trump's hateful positions and commentary remind us all of much darker times in our world's past - and it is incumbent upon all of us to forcefully challenge hatred in all of the ways that it confronts us," he wrote in a letter to the developer.
The Holborn Group did not respond to requests for comment but in previous statements has noted that the still-unfinished building will create some 300 new jobs.
"Holborn, a company that has contributed immensely to the growth of Vancouver, is not in any way involved in US politics. As such, we would not comment further on Mr Trump's personal or political agenda, nor any political issues, local or foreign,"CEO Joo Kim Tiah said in December.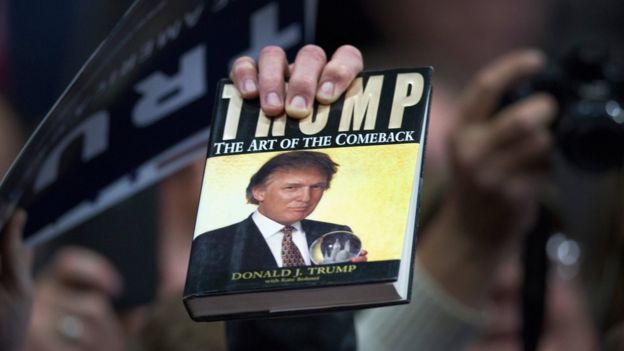 Despite the fuss, nearly 10,000 people have applied to work at the Vancouver Trump Tower, according to the hotel's general manager, and Holborn says it has sold all the luxury condos in the building.
In Toronto, project developer Talon was close to a deal to sell the troubled 65-storey hotel and condominium complex at the heart of the city's financial district earlier this year. However, Toronto's Trump Tower is currently off the market.
Talon chairman Alex Shnaider was also trying to have the Trump name removed from the building, at one point seeking to do so through arbitration.
Those efforts also appear to have stalled. A lawyer for Talon refused to comment other than to note there is currently no lawsuit between the owners of the hotel and Mr Trump.
Mr Trump first announced his involvement in an early version of the project in 2001 and it was brought under the Trump brand umbrella in 2004. The businessman attended the official groundbreaking in 2007.
The Trump Organization does not have an ownership stake in the building but it operates and manages the hotel and licenses the Trump name to the complex for a fee.
The building is the subject of a lawsuit by disgruntled buyers who lost money after investing in the property, in one instance almost 1m Canadian dollars ($750,000; £613,000).
In a recent decision, an Ontario court ruled in favour of two investors, saying one could be discharged from his obligations and another could be awarded damages.
Talon is considering appealing against the decision.
Tick Tock...
Jen
2 Replies
Re: Trump Brand Problems....
And then there is this story out there:
Damage to Trump's brand will linger
BY JENNIFER RUBIN
|

Saturday, Oct. 22, 2016, 6:09 p.m.
"When you mess with reputation it is often fatal." That's from Nir Kossovsky, president and chief executive of Steel City Re, which analyzes reputational risk for public companies.
Reputation can be quantified and insured like any other business asset. Whereas a corporate brand is in essence a promise (e.g., your car will give you status), reputation is broader, more personalized and fragile.
That's bad news for Donald Trump.
Kossovsky describes reputation in the business context as the "value reflected in the behavior of stakeholders." If you are a superb businessman with a sterling reputation, you'll see the value of reputation in higher prices you can demand, higher volume of sales, less turnover by employees, better terms from vendors and easier credit terms. People want to be in business with you.
If, however, your reputation is that of a blowhard and sleazy guy, you're not going to be able to charge as much for hotel rooms (or fill them up), keep good employees and get favorable terms from vendors and creditors. You may even get harsher treatment from regulators and juries/judges who view you with suspicion.
One way to tell if Trump has damaged his business reputation and therefore his own pocketbook will be, Kossovsky explains, if the price of licensing his name goes down in the future — or worse, if licensees want to end their agreement.
All of this is especially critical for Trump, whose name is the driver of his business value. In that respect he's like celebrity endorsers. Unfortunately, once your reputation goes down the drain, your reputational value often goes to "zero — fast," says Kossovsky. In concrete terms, if Trump's racism, misogyny, business failures and bullying make him a social pariah, he won't merely sell fewer books; publishers may not want to touch him at all.
Anecdotal evidence suggests this is already occurring. "A staple of Palm Beach's high-end philanthropy circuit, the Mar-a-Lago Club boasts rich history, an 800-seat ballroom and ocean views," The Associated Press observes. "But some major charities and fundraisers are now concerned with a different feature: the property's owner, Donald Trump."
The report continues, "Following ... allegations that he inappropriately touched women — in two instances at Mar-a-Lago — the Susan G. Komen Foundation is leaning toward finding a new location for its Perfect Pink Party on Jan. 14, a million-dollar breast cancer fundraiser it booked a year ago."
In the consumer products realm, there are warning signs as well. The New York Times reports: "Across the country, voters alarmed by the tenor of Mr. Trump's campaign and the emerging accounts of his personal conduct are engaging in spontaneous, unorganized and inconspicuous acts of protest that take direct aim at perhaps his most prized possession: his brand name."
Ivanka Trump's clothing brand raises unique problems. "A significant aspect in selection of clothing is built around what you want to convey," Kossovsky (who is married to a style strategist) says. If Ivanka's brand is not separable from Trump's name, the likelihood young women want to wear her shoes and carry her handbags goes down substantially.
In determining reputation — the collective expectations we have about someone's value — the various stakeholders essentially all get a "vote." Ex-employees thinking he is vulnerable to employment suits, banks that want tougher credit, travelers who want cheaper rates, golfers who want to play a course without being reminded of the 2016 election horrors and book readers who want to learn how to be successful all will have a chance to weigh in on Trump's value long after the election is over.
In that sense, Trump's election rhetoric, treatment of women and business failures (which are now much more widely known by regular Americans) may actually damage his bank account and reduce the amount of attention he receives — which are the only things he cares about.
Jennifer Rubin writes the Right Turn blog for The Washington Post.
Tick Tock.....
Jen
Re: Trump Brand Problems....
3.7 billion USD
Forbes 2016
Sniffy is going to take a hit from his run for President. The thing that he was selling the most, HIS NAME, is going to be worthless....
Tick Tock....
Jen