Mark as New

Bookmark

Subscribe

Email to a Friend
Was it smart for China to start trade war with us US?
https://seekingalpha.com/article/4265826-china-crushed-debt
Their debt is +250% of GDP (the US 105% of GDP). Their gamble is the 2020 US election outcome, however can they be sure a Democrat will be less "protectionist than Trump"?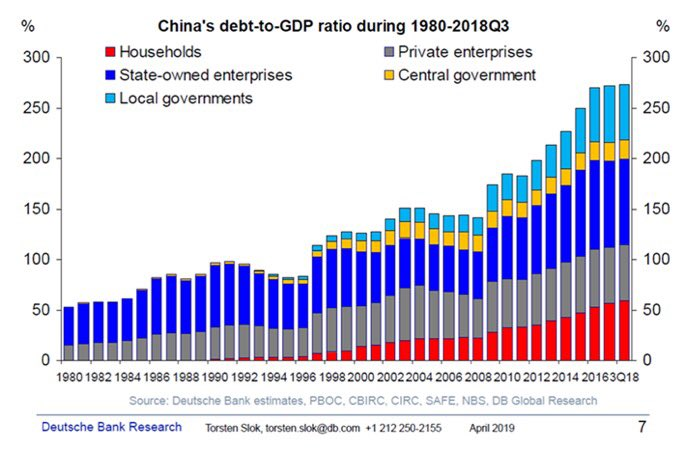 China is 2 1/2 times in the "boat" that we`re in and our "solution" is to grow our way out of debt. To grow, China has to sell. And to sell China has to sell and I don`t know where China gets to there without the US in the equation. Brazil isn`t going to run a $400 billion trade deficit with them, that`s for damned sure.
Here`s a interview with China shill Jimmy Rogers "farmers will drive Lamborghinis" ...he`s on the "farmers are old, farmers committing suicide, land is cheap in Japan land is cheap in India ...noooo one wants to be a farmer" kick.
https://www.youtube.com/watch?v=HnXFq7PvOmc
Go to Iowa State campus and there`s a lot of young people that would love to farm and some will. But it`s like "I want to be a automaker in the US". You can`t roll out of bed one morning and be on the same footing as GM, Ford and Chrysler. Maybe you have to get a job with Chrysler a few years, learn the ropes and venture out and gain capital to strike out on your own when conditions are right. That`s the direction farming is, though capital requirements are still a little less than being a automaker
4 Replies